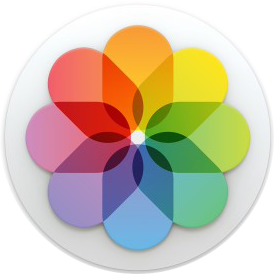 Mac OSX has a fantastic program for organising your photos which integrates with iTunes so you can synchronise your photos across your devices. The Photos app replaces the old iPhoto app which was in place up until the El Capitan release of OSX.
Once you upgrade to El Capitan, you will see the new Photos app on the Dock which will become the replacement for iPhoto and your iPhoto app may well have a 'stop sign' through it which prevents you from running iPhoto after the upgrade.
The first time you open the Photos app, it will ask you to upgrade the database and import your iPhoto library into Photos.
Follow the instructions to import your photos and start using the new version of the application.
When you open the Photos app for the first time, you may be a little confused with what you're looking at but let me explain things for you.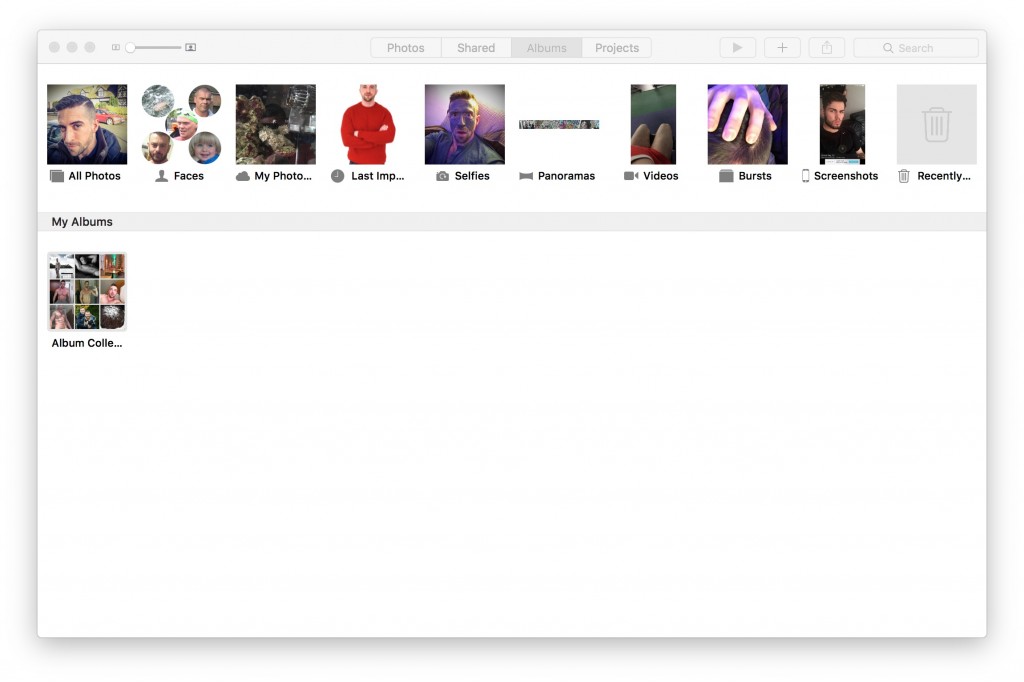 You will see a lot of different albums on the screen but note the grey line mid-way which says 'My Albums'. This is important. Everything above the line is auto-generated by the app, you have no control over what appears there. The system automatically makes some Smart Albums which you cannot remove.
All Photos - this is basically one folder which will contain every single photo contained within all the albums in your Photos app, all in one place.
Faces - identifies photos with faces in which the system has detected. These can be faces you have already programmed or those detected as Unknown.
My PhotoStream - is a collection of photos from any of your Apple devices. If you have Photo Stream turned on within iCloud on your iPhone, iPad or MacBook for example, any photos you take on those devices will appear in your Photo Stream across all your devices.
Last Import - are simply a copy of all of the photos from the last time you imported photos into Photos.
Selfies - Any photo which Photos thinks looks like a 'selfie' will appear here.
Panoramas - If you have taken any panorama photos, they will come here.
Videos -  Any videos you import into your Photos app will show here.
Bursts - Bursts are a feature of newer Apple devices which can take a burst of multiple photos within one press of the shutter button.
Screenshots - If you take a screenshot on your iPhone or desktop, it will appear here.
Recently Deleted - Everything which is deleted within Photos will stay in this folder for up to one month in case you need to restore it.
The photos in these albums are not duplicates, if you delete a photo here it will be deleted from the actual album. These are simply quick-access Smart Albums for you.
I have used this app for a long while and having migrated from iPhoto I found that I didn't like what it was trying to do with my photos so I will show you how I organise my photos using the Photos app to keep it tidy and manage my photos much the same as iPhoto used to work.
Firstly, if you have multiple albums listed below the 'My Albums' grey line, simply drag them one by one on to the first album under the grey line. If you have upgraded from iPhoto, this will probably be called 'iPhoto Events'. Once you've done that, all of your albums will be within the iPhoto Events album. Once that is done, rename the Album by clicking on the title below the thumbnail and enter a name of your choice, I used 'Album Collection'.
Click into your new collection of Albums and you will see all of the previous albums you created as Events within iPhoto.
Events, do not exist any more, Albums are used instead, which actually, I think are more appropriate.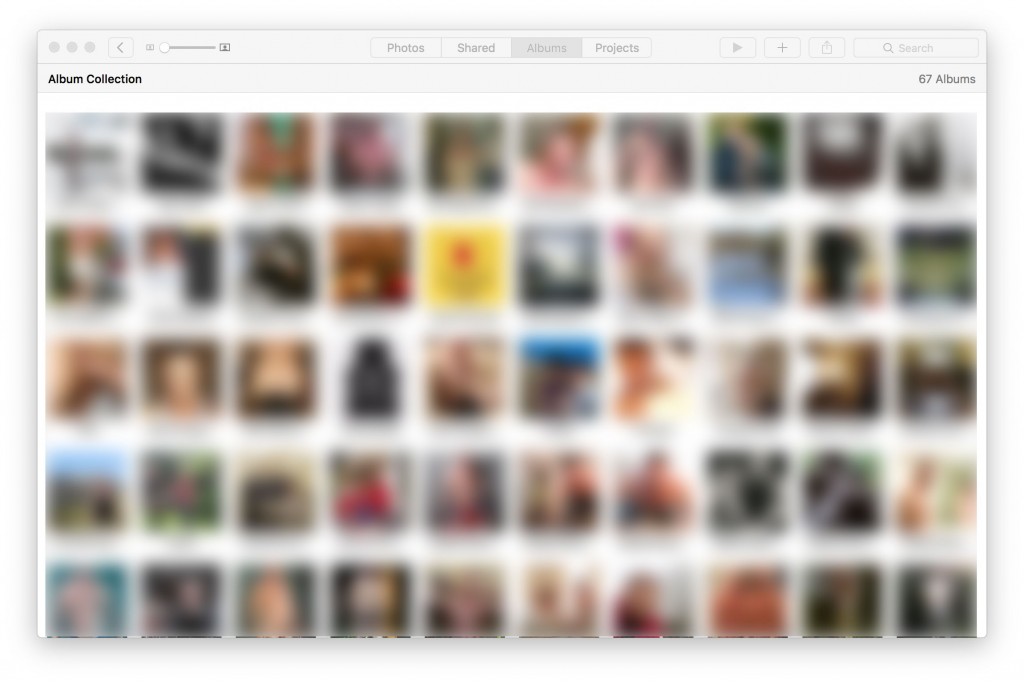 To create a new Album
Open Photos
Ensure you are in the correct place by clicking 'Albums' on the top menu bar of the App
Double-Click on your album collection, eg: Album Collection - you will then see all of your previous events, as shown in the image above
At the very top of the screen, click 'File'
You will see a box appear within Photos titled 'Create New Album'. Ensure the drop-down says 'New Album' and in the Album Name box, enter a title for your new album, then press 'OK'




You have now created an empty album to add or move photos and videos to.
Add Photos to an Album
I found this method works the best for me and ensures that no duplicates get created in the Photos app.
Create a folder on your desktop and call it 'Transfer' 
Add any photos into your transfer folder which you would like to import into the Photos app
Open the Photos app
Click on 'Album's at the top
Double-click on your album collection
Double-click on your new, empty album (or any other album you wish to import photos into)
Open the transfer folder and position your windows so you can see both Photos and your transfer folder




Select the photos in your transfer folder which you would like to import into your new album. Either select them all with the mouse, press cmd+a, or, use the cmd button to allow you to select individual files in a long list
Using your mouse, click and hold, then drag the images into your album below. When you get your photos into the Photos app, you will see a little collection of thumbnails with a number in the corner. This is telling you that you are about to import that number of photos into your new album, in this case, 3 photos, the last one being the image of the Photos app icon




Once you have the mouse in your album, release the button and the photos will be imported. Once the import is complete, you will see the banner in the top right of your window




You have now imported the photos so you can delete the copy in your transfer folder. Simply select the images in your folder as before and either right-click and choose 'Move to Trash' or press the cmd+delete buttons.
Move Photos from one Album to Another
Open your transfer folder as above and again, position the windows so you can see both the Photos app and your folder (the folder should be empty)
Double-click on the album which contains the photos you want to move
Locate the images you want to move to move and select them by holding down the cmd button and clicking on each photo you wish to move. A border will appear around the selected photos




Using the mouse, click and hold, then drag the photos into your waiting transfer folder, you will see a '+' symbol and if there is more than one photo, the number will also show to inform you that you are about to copy x number of photos into your transfer folder




Once inside your transfer folder, let go of the mouse, the files will be copied and you will see them appear in the folder
Once the files have been copied, you need to remove them from the old album in Photos so you don't create duplicates when you move them into their correct album.
Return to Photos by clicking on anywhere on the light grey bar, to the right of the title and date of your album - By doing this, you will notice that your photos are still selected. If you lose your selection, simply re-select them as before. 
Move the photos to the Trash by pressing the cmd+delete button (use the backspace button which you use to delete text). Now, you need to reimport the photos into their correct album.
Click the back arrow on the top-left of the Photos app window, alongside the thumbnail size slider which will return you to your album collection




Simply import the photos into their correct location by following the instructions above 'Add Photos to an Album'
Once you have added the photos to the correct album, delete them from your transfer folder